Architecture
Behind the scenes with our construction team
We recently captured some of the amazing work our construction team does as we craft our stunning properties. Moments of concentration, care and detail inside and out. Thanks to our men for the hard work they do every day.
By Estilo Architects
Posted on 13th December 2021
We've been on site for a recent project and captured images of our amazing build and interior team hard at work. From David our site manager to Abdulla our construction assistant. They help us turn each concept into the final build. Every detail is crafted with precision and care to deliver homes our clients can cherish forever. We hope you enjoyed this look behind the scenes.
It's an incredible effort to create living experiences of the highest standard and only achievable by a seamless team effort right from initial concept sketches through to the final build details and snagging. These photos aim to give you a feel for the care and attention we go to when building your next home.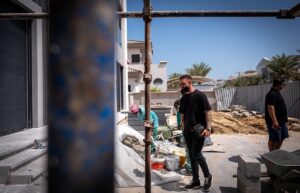 Thanks for reading, we look forward to working with you and turning your ideas into reality. Please  contact us for any questions or advice on your future project, you can reach us at: